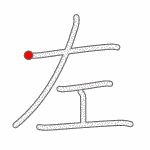 KALIWA
Mula sa imahen ng kamay 手 sa itaas ng trabaho 工.
Mnemonic: "Kaliwang kamay ang nagtatrabaho."
COMPOUNDS
1. KALIWA
RELATED KANJI
Baligtad ng ibig sabihin: 右
ORIGIN
Timog Kanji Dictionary is licensed under CC BY-SA 3.0. Kanji GIF animations from Kanji.gif by Jean-Christophe Sirot and the KanjiVG project by Ulrich Apel. Kanji illustrations from Wiktionary. All under CC BY-SA 3.0 license.