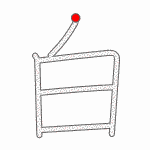 PUTI
Nanggaling sa imahen ng binalatan na acorn, at nagpapahiwatig ng puting kulay ng loob ng acorn.
Maari ding isipin na 日 (araw) na may ´ (sinag).
Mnemonic: "Puti ang sinag ng araw."
COMPOUNDS
1. PUTI, WALANG DUNGIS, BLANKO
2. UMAMIN
RELATED KANJI
ORIGIN
Timog Kanji Dictionary is licensed under CC BY-SA 3.0. Kanji GIF animations from Kanji.gif by Jean-Christophe Sirot and the KanjiVG project by Ulrich Apel. Kanji illustrations from Wiktionary. All under CC BY-SA 3.0 license.