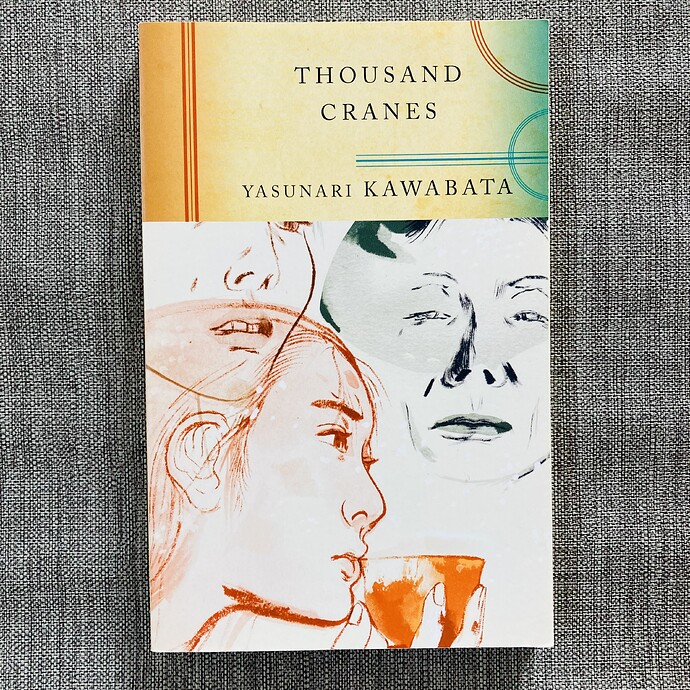 Hindi kagaya nung Snow Country ng parehong author na hindi matapos-tapos basahin, nung nakuha ko itong Thousand Cranes (千羽鶴 senbazuru) ni Kawabata nung isang linggo at binasa ang mga unang pahina, hindi ko na binaba hanggang hindi natapos.
Sabi sa likod ng libro: "Nobel Prize winner Yasunari Kawabata's Thousand Cranes is a luminous story of desire, regret, and the almost sensual nostalgia that binds the living to the dead."
A note on the Tea Ceremony, the backdrop for Thousand Cranes
Mula sa libro:
The beginnings of the tea cult can be traced to the thirteenth century and the beginnings of Zen Buddhism in Japan. Early Zen masters recommended reas as the beverage most excellent for cultivating the spirit, and in the centuries that followed, an elaborate symbolism and a carefully contrived ritual encouraged the Zen disciple in his aim to achieve imperturbability.

Rustic utensils and surroundings were brought into harmony to remind him of the Buddhahood in a clod of earth, and the withdrawn repose of the cottage and its garden turned his mind to the permanent behind the ephemeral–to the intersection of time and eternity.

If the quiet and restraint of the ideal tea ceremony are somewhat lacking in ceremonies described in this novel, Mr. Kabawata's characters nonetheless seem to pause at the intersection, marked for them by the permanence of the old tea vessels and the impermanence of the owners.
Tasa ng ocha at mga taong gumagamit nito
Para sa isang maikling nobela na kagaya ng Thousand Cranes, marami ang description ng mga tasa ng ocha na ginagamit ng mga lumalahok sa tea ceremony sa kwento.
Kagaya nito:
After drinking, Kikuji looked at the bowl. It was black Oribe, splashed with white on one side, and there decorated, also in black, with crook-shaped bracken shoots.

"You must remember it," said Chikako from across the room.

Kikuji gave an evasive answer and put the bowl down.

"The pattern has the feel of the mountains in it," said Chikako. "One of the best bowls I know for early spring–your father often used it. We're just a little out of season, but then I thought that for Kikuji…"

"But what difference does it make that my father owned it for a little while? It's four hundred years old, after all–its history goes back to Momoyama and Rikyū himself. Tea masters have looked after it and passed it down through the centuries. My father is of little importance." So Kikuji tried to forget the associations the bowl called up.
Sa loob ng libro ay palaging may tension sa kagandahan ng mga tasa ng ocha na may ilang daang taon na ang kasaysayan at ang kumplikado at masalimuot na relasyon ng mga taong gumagamit ng mga ito.
Kawabata, worshipper of fragile beauty
Sa award ceremony speech ng 1968 Nobel Prize for Literature, sinabi ni Österling ng Swedish Academy:
Kawabata has been especially praised as a subtle psychologist of women. He has shown his mastery as such in the two short novels, "The Snow Kingdom" and "A Thousand Cranes", to use the Swedish titles. In these we see a brilliant capacity to illuminate the erotic episode, an exquisite keenness of observation, a whole network of small, mysterious values, which often put the European narrative technique in the shade. Kawabata's writing is reminiscent of Japanese painting; he is a worshipper of the fragile beauty and melancholy picture language of existence in the life of nature and in man's destiny. If the transience of all outward action can be likened to drifting tufts of grass on the surface of the water, then it is the genuinely Japanese miniature art of haiku poetry which is reflected in Kawabata's prose style.
Sa ngayon ay hinahanap ko ang libro ni Kawabata na Old Capital para basahin. O baka kailangan ko munang tapusin ang Snow Country.